Painting is my way of communicating with the world. It's an exciting journey into the unknown and timeless ...
Biography
 Galya Didur  is Professional artist  She attended   the Kharkov Art Academy( Monumental Decorative Painting)1989) .,Since 1990, she has lived in Israel.
Her artworks are exhibited in the Museum of Russian Art (Jersey City, USA),and may be found as part of private collections in the USA, Canada, France , Switzerland ,Germany, Russia, Israel, , etc.
Prizes
Mention 2017 Salon des Artistes Français «Art en capital», Grand Palais, Paris

Prix de la Fondation Paul Paté 2015 : Salon des Artistes Français «Art en capital», Grand Palais, Paris
Mention 2017 Salon des Artistes Français «Art en capital», Grand Palais, Paris
«la Toile d'or» de l'année 20142014 : Salon des Artistes Français «Art en Capital», Paris
2-nd prize Acrylique 2011 : Arts Festival «Transformation», La Ferte Bernard, France (Nomination pour sa technique de peinture Acryl)
solo exhibitions
2020- I- Gallery- Intelligence Paris,  France 
2020 - Tribal Art & Israeli Callery ,Tel-Aviv, Israel  
2019 - Galerie des Annnnciades, St-Ursanne, Suisse
2018 :-Ein-Hod gallery, Israel
 2018 - Galerie des Annonciades, St-Ursanne, Suisse
2016 :-Galerie des Annonciades, St-Ursanne, Suisse
2015 - «Chilling zone»,  Gallery Aladdin's Lamp, Jaffa, Israel
2014 :-Galerie Russkiy Mir, Paris,France 
2013-2015 : Galerie Paulia Rosa, Paris,  France
2012 - Galerie 104, Paris ,France
 2012 :-Galerie espace improbable, Paris, France
2011 - Karo Gallery ,Haifa, Israel
2010 - Hotel de Prince de Gales, Paris France
Group exhibitions
2018 : Group project, Skizza Gallery, Jerusalem, Israel
2018 : Villers sur Mer, Normandie, France
2018-2020 Salon des Artistes Français «Art en capital», Grand Palais, Paris
2018-Salon des Artistes Français «Art en capital», Grand Palais, Paris
2017 : Salon international d'Art contemporain, février 2017, Paris
2015 : Salon des Artistes Français «Art en capital», Grand Palais, Paris
2015 : Group exhibition «Peintres Russe», Zi Artifice Gallery, Paris
2013-2014 : Salon des Artistes Français «Art en Capital», Paris, Galya Didur obtient «la Toile d'or» de l'année 2014
2014-2015 : Israeli Worldwide Exibition Art Works, Germany
2014 : «Artistes du Monde», Cannes
2013 : Exposition collective, galerie «Opus4» Love 2 arts Antwerpen, Belgique
2013 : Exposition collective, Deve Gallery, Bruges, Belgium
2012 : Galerie Neel, Cannes, France
2012 : Group exhibition «Time of wanderings (East-West)», Central House of Artists, Moscow, Russia
2011 : Museum of Russian Art (MORA), USA, New Jersey
2011 : Arts Festival «Transformation», La Ferte Bernard, France (Nomination pour sa technique de peinture Acryl)
2011 : «Haim-means life», «Arvest Art Gallery», Almaty, Kazakhstan
2011 : Group exhibition «Time of wanderings (Discovery of America)", Central House of Artists, Moscow, Russia
2010-2012 : Salon des Artistes Independants «Art en Capital", Grand Palais, Paris
2009-2012 : Salon Business'Art Fair, Espace Pierre Cardin, Paris
  2000-2009-Artexpo -New York(USA)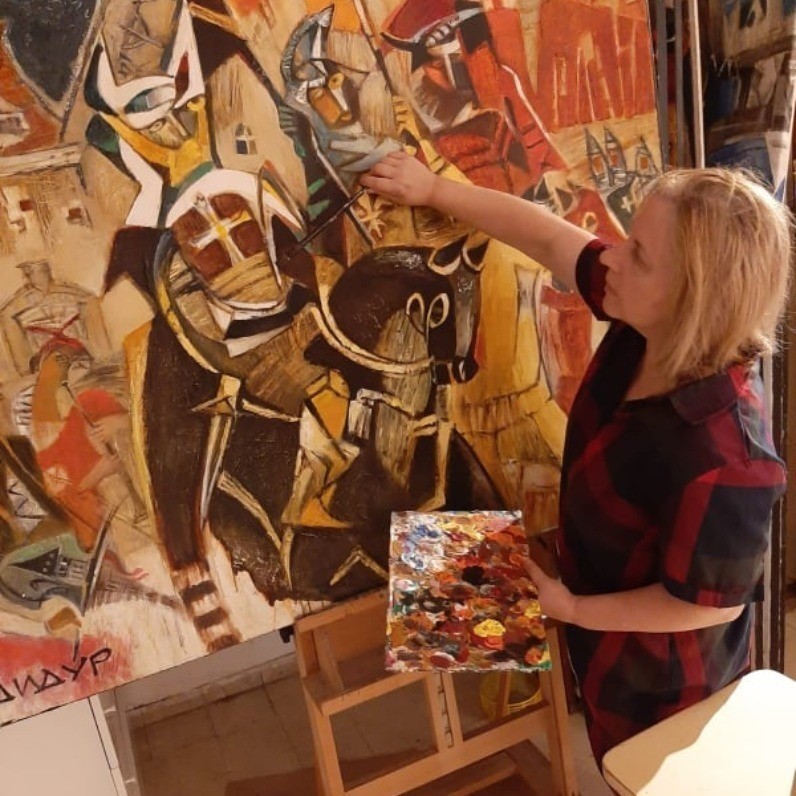 The artist at work